Royale Union Saint-Gilloise (RUSG), like all other Belgian professional football clubs, is subject to the Belgian Anti-Money Laundering (AML) Legislation, obliging us to do a thorough check of every counterparty before we enter into a commercial partnership or a transaction amounting to more than 10.000€.
This preliminary AML assessment is legally necessary for us to finalize any cooperation with a sponsor, a supplier, a club or an intermediary. It entails several steps: first, a global risk assessment of the client (generic term used in the AML legislation to designate a counterparty) and the risk associated therewith and then, an individual risk assessment implying proper identification of the client (including the Ultimate Beneficiary Owner(s)/UBO(s)) and verification of the client identification data.
Hence, in accordance with the Belgian AML legislation, as soon as RUSG receives a bid for a player or negotiations are starting with a potential sponsor or supplier, the club requests the intermediary, the club, the sponsor or the supplier concerned to fill out an AML form and to provide with the information/documentation requested in this form. The identification data collected is checked against a database to determine whether clients or their UBOs are Politically Exposed Persons (PEPs), have received adverse media coverage and/or are mentioned on a sanctions list. Depending on the level of risk identified on this basis, RUSG decides whether or not to enter into a commercial partnership with the counterparty subject to AML verification and/or whether or not to proceed with the intended transaction.
The AML assessment must be repeated every year for intermediaries because the level of risk is high while the AML assessment is renewed every two years for other clubs, which represent a medium risk. The AML assessment of sponsors or suppliers is also subject to review every two years given the low risk associated with them.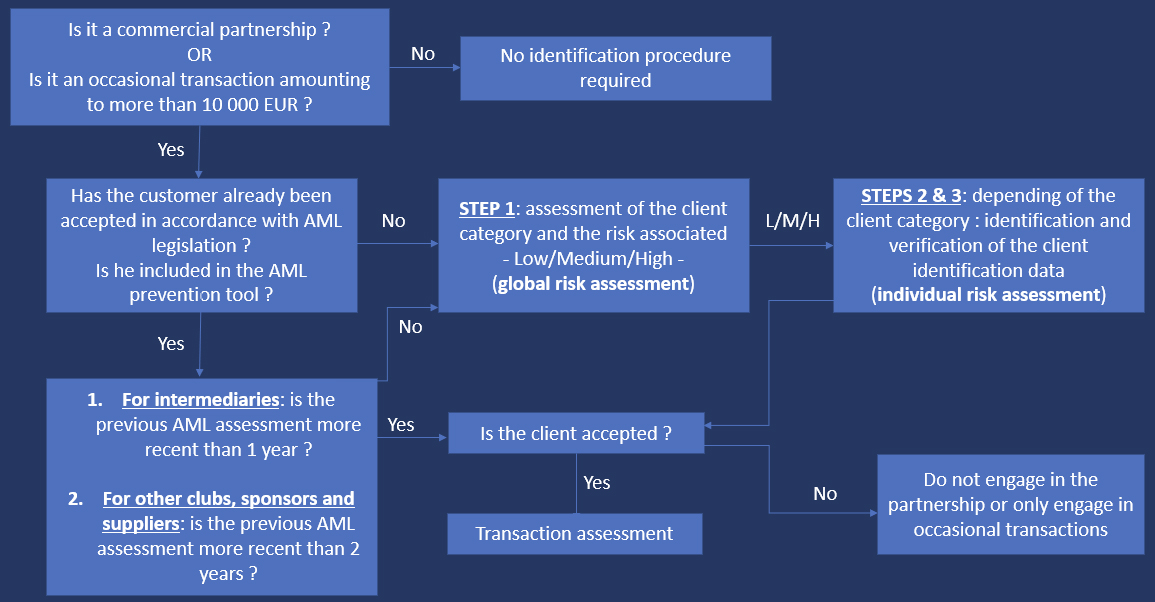 Should you have any questions about RUSG KYC, please don't hesitate to contact our AML Officer, Virginie Cerexhe at the following email address: virginie.cerexhe@rusg.be. The AML officer exercises her function autonomously within the club and reports directly to the CEO and the Board of Directors. She independently assists the club in managing AML risks and gives advice on the application of the


AML legislation. As a member of the Institute of Corporate Lawyers, her advice is based on absolute objectivity and intellectual integrity and is not subject to any external influence (article 4 of the Deontology Code attached).